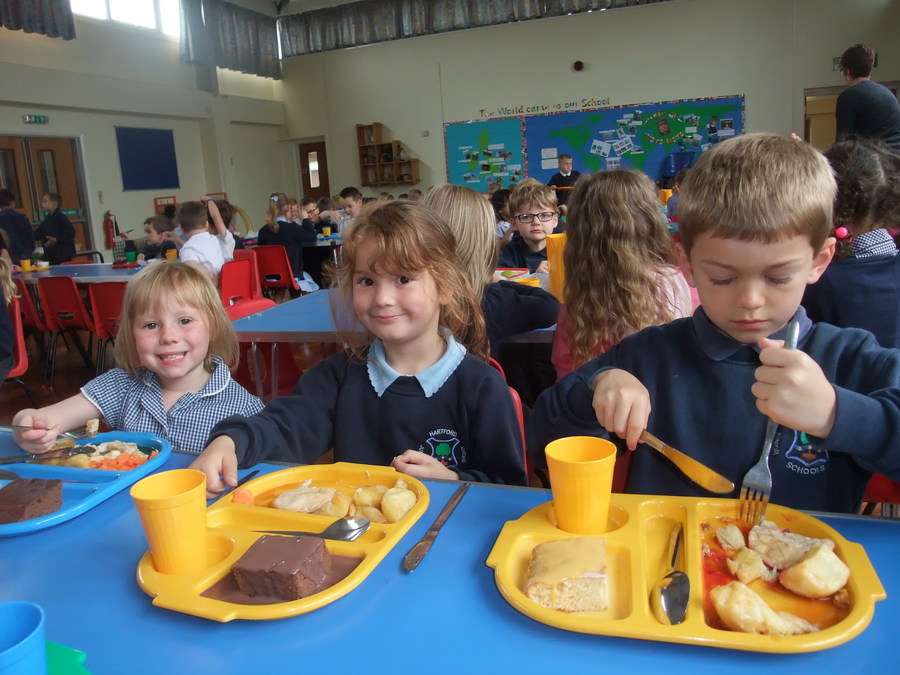 - MENU -
All children in Hartford Infant School are entitled to a free school lunch everyday [known as UIFSM Universal Infant Free School Meals - click here for more information] .
All we ask is that parents and children look carefully at the menu [click here] or the yellow banana outside the office, to ensure they want to eat the meal being served that day. If the child does not like or want that meal then they may bring in their own healthy pack lunch for that day. Children with pack lunches can still eat with their friends who are having a UIFSM.
Hot Meals
Cambridgeshire Catering Service [CCS] cook and serve our school meals each day. Like our school, CCS is committed to providing children with healthy, nutritionally balanced lunches. Details of menu choices and nutritional information can be found on the 'My School Lunch' website.
Universal Free School Meals
As you may know the Government is funding free lunches for all infant pupils; your child is currently entitled to have a free lunch every day and here at Hartford we are happy for them to decide on a day to day basis, with your guidance, whether they want a hot meal from our kitchen or a packed lunch made at home - although we must know their decision at morning registration time. More information on free school meals, including further explanation of eligibility criteria and an online application form can be found on the Free School Meals website. Don't forget, not only does your child receive a free hot meal each day, the school also receives extra money to support their learning. So do take full advantage of this.
If you feel your child is too fussy to have school meals then read the 'school food and fussy eating' article below, where some parents explain how having school meals has helped broaden their child's food horizons.
http://www.childrensfoodtrust.org.uk/news-and-events/news/school-meals-help-fussy-children-try-new-foods
Packed Lunch
Some families prefer their child to have a packed lunch, as they have a hot meal together in the evening. We encourage all parent/carers to provide a healthy lunch for their child[ren], with an item of food from each food group.
The School Food Trust has created three downloadable packed lunch menus to give you some ideas for creating a nutritionally balanced packed lunch for primary aged children. Click on the links below to view a three-week menu for
Water is available for all children whether hot dinners or packed lunch, but we ask you to provide cutlery if it is needed, for example if the child has a pot of yoghurt. We thank you in advance for your cooperation with this.
There are a few rules we ask everyone to follow – no fizzy drinks, no hot food, no sweets and no chocolates. Because more and more children have nut allergies we also ask parents to avoid giving their children peanut butter or other food items containing nuts to help us keep a safe environment for all our children.
School Fruit and Vegetables
The School Fruit and Vegetable Scheme is part of the 5 A DAY programme to increase fruit and vegetable consumption. All four to six year old children in Local Authority maintained infant, primary and special schools are entitled to a free piece of fruit or vegetable each school day. Produce currently used in the scheme are : apples, pears, easy peel citrus, bananas, carrots, cocktail tomatoes, sugar snap peas, strawberries, and mini cucumbers. All of our children benefit from this scheme and parents/carers have commented that their children are more happy to eat fruit at home as a result.
Parent lunches
We have regularly invited parents/carers into school to have a meal with their child in the Spring Term. For more information on how you can join your child for a school meal or packed lunch then contact the school office or look out for the next date in your newletters.
If you need some encouragement…here is what one mother said after joining her son for a school meal:
"I thought I would just send you a quick email to tell you how much I enjoyed my 'school lunch' experience today...I found there was a good choice of healthy foods as well, without being too obvious.
The serving and supervision staff were very friendly, helpful and polite. I enjoyed my Lasagne and Fruit Salad very much, it was delicious. I also thought the children from all years to be very well behaved and friendly. Please pass on a message of congratulations to them as it made my visit more pleasurable."
Cookery Club
My Cookery Club, a sub-site of the Cambridgeshire Catering Services' main website, has everything you need to know about cooking healthy food with your child. Use the link above to access recipes, competitions, nutritional advice, cooking tips and lots more …a website the whole family can enjoy.